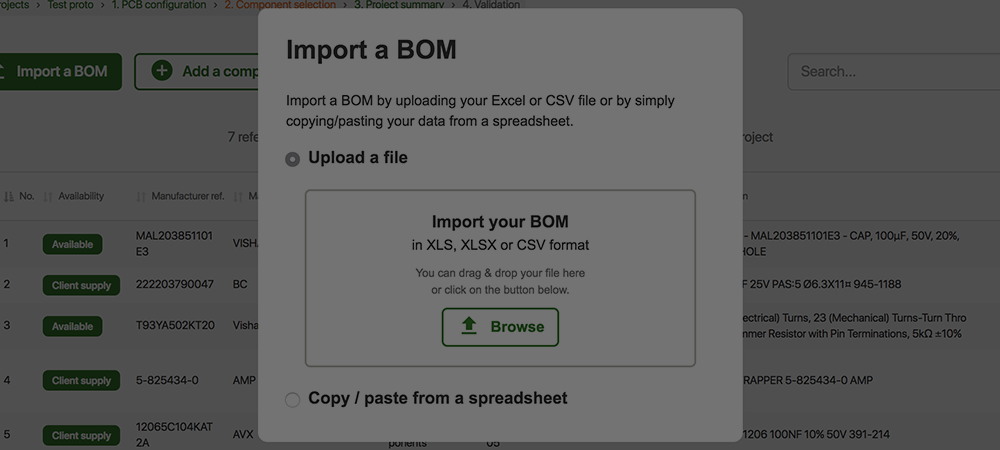 After your PCB configuration step, if your assembled PCB project includes electronic components, you will be able to import a BOM (list of electronic components) in step n °3.
Designing a BOM will save you precious time when placing your order. This step consists in checking the availability of the components directly from each of our suppliers and obtaining pricing for each electronic component automatically and instantly.
For the import to be successful, your BOM must meet the following criteria: The first row of your BOM must contain the following columns:
The designator: matching the designator for each component.
Quantity: this is the quantity of components for one PCB.
SKU: this is the stock-keeping reference from the indicated supplier.
Supplier: the requested supplier. Only the following are accepted: RS / FA / DK / MO.

This column is only used if you entered an SKU (see the "Supplier coding" list below for more details).

Reference: this is the manufacturer reference (valid for all suppliers).
Description: the component description.
Manufacturer: the manufacturer's name.
The eight above columns must be present and contain the terms listed above. The order isn't important.
The list of components must begin on the 2nd row of your BOM.
The BOM must at least contain the following data (starting on row 2):

Quantity
Reference
And/or: SKU + Supplier
Designator

The designators must be separated using commas and/or spaces.

Please note that the algorithm doesn't check for duplicates in the designators.

The quantity must match the number of designators.
It is mandatory for the SKU to be accompanied by the supplier: RS / FA / DK / MO (see below for more details).
Spaces are not allowed in the SKU and the reference.
Your BOM must be in Excel format (.xls or .xlsx extension).
If one of the above criteria is not met, errors can occur when importing.
Supplier coding
The suppliers we work with are RadioSpare, Farnell, Digikey and MouseR. It is mandatory for the SKU to come from one of those suppliers.
Thus, if you enter an SKU, indicate the matching supplier using the following codes in the "Supplier" column:
RS for RadioSpare.
FA for Farnell.
DK for DigiKey.
MO for MouseR.
Download our BOM template
To make it easier to import your component BOM, you can download and use our template.
You will need Excel or an OpenOffice or Numbers (Mac) type software to be able to use it.
If you have any questions, feel free to contact our customer support from Monday to Friday and from 9 am to 7 pm CET using live chat, e-mail or call +44 1202 006012.
Create your free account on Proto-Electronics.com
and get your PCBA quote within the next 10 minutes!