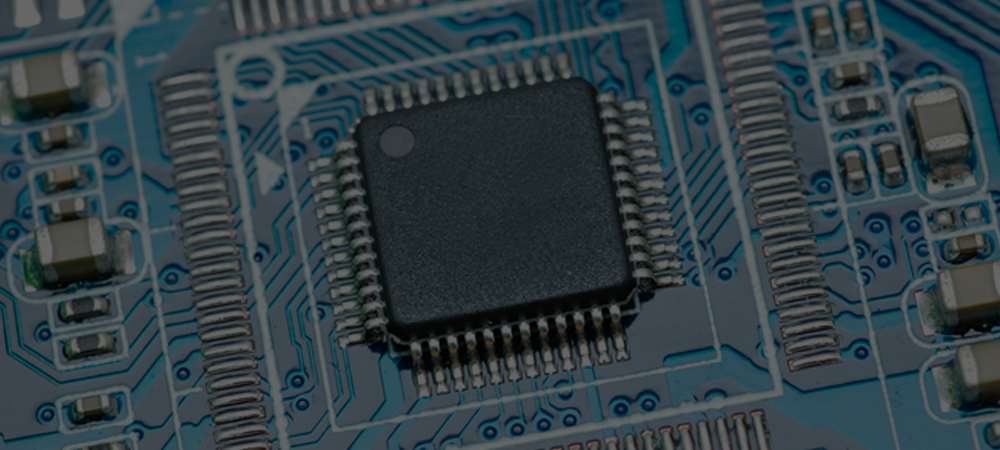 After starting in the first quarter of 2017, the difficulties in obtaining ceramic capacitors are getting worse. Experts believe the crisis will extend to 2020. You can act on several levels to counter the shortage: improve customer-supplier relations, adopt virtuous behaviour and, above all, seriously consider moving to other technology.
Of previously unknown intensity since 2000, the current shortage of components especially impacts power components, memory, sensors and ceramic capacitors (MLCC). Subcontractors suffer all the more from the shortage as it corresponds to a period when orders are coming in.
Updated on 10/10/19
What caused this electronic component shortage?
The especially critical situation for MLCCs (Multi-Layer Ceramic Capacitors)
October 2019: the component shortage situation has hardly improved
What caused this electronic component shortage?
At a macro level, the sudden and unforeseen growth in the global component market (+ 20%) caused an imbalance between supply and demand. The automotive industry and smartphones seem to be the main sectors at the origin of the increase in demand. But that's not the end of the story: we're seeing a strong increase in new applications for which the quantity of materials and the electronic parts built into them is not well identified: the internet of things, connected vehicles, drones, wind farms, the Smart Grid, etc.
In fact, every link in the supply chain also has its share of responsibility: some component manufacturers have multiplied obsolescence notices, and some customers issue double orders and over-stock.
Why didn't we see it coming? Opportunistic purchasing behaviour is partly a result of a lack of reliable sufficiently long term forecasts by electronic equipment manufacturers. On the other side, traditional subcontracting customers provide ever decreasing purchase forecasts, while public order-givers provide none at all.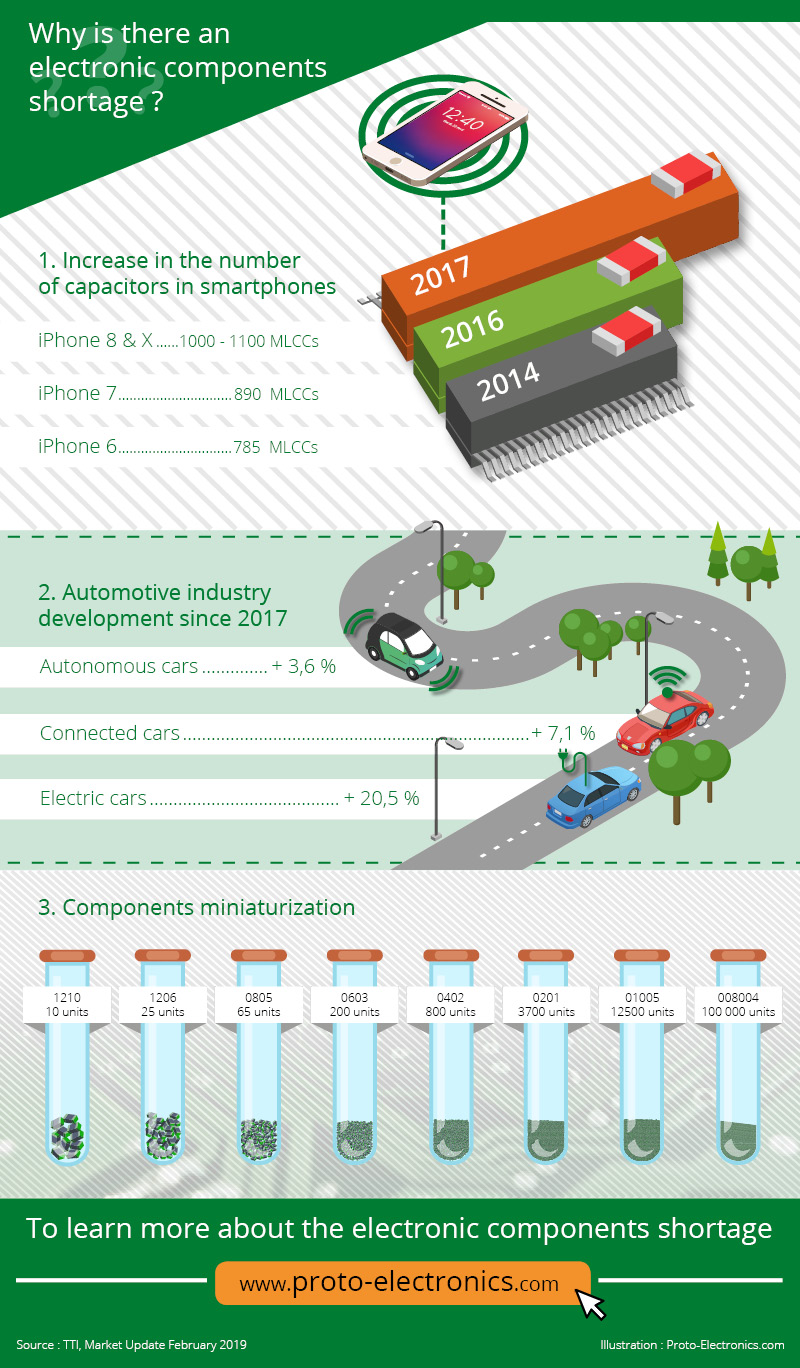 The especially critical situation for MLCCs (Multi-Layer Ceramic Capacitors)
The general context is amplified when we look at the specific case of ceramic capacitors:
An electric vehicle has four times more ceramic capacitors than an internal combustion engine vehicle, and the inclusion of true digital tablets in all new vehicles does nothing to help;
The iPhone X has twice as many MLCCs as the iPhone 6S, and the expansion of Chinese smartphone manufacturers has increased demand even more.
Analysts are blaming the shortage of ceramic capacitors on 3 main causes:
The general increase in the demand for components;
The conversion of Japanese manufacturer production to products expected by the automotive, industry and smartphone markets, which generate better margins, to the detriment of the general market;
The difficulty in quickly increasing production capacity to meet demand: delivery lead times for equipment needed to manufacture MLCCs are from 8 to 12 months.
How to manage this severe ceramic capacitor shortage
As OEMs, the decisions you make today will be decisive in the survival of your business. This type of crisis may force you for struggle for many years to reach your production targets if you don't seriously deal with the situation, and if you don't adapt to technological evolution!
Here are a few tips:
Don't artificially boost your orders;
A new generation of passive components provides alternatives to ceramic capacitors; you will find MLCC equivalents and, when applicable, can adapt your designs accordingly;
Take into account your suppliers' technological and production road maps;
Diversify your sources: find new suppliers other than those you have already referenced;
Flee components that depend on a single supply source;
To keep good visibility, improve collaboration between designers, buyers and the supply chain. Good Customer-Supplier relations based on mutual understanding, communication at all levels and a certain degree of transparency can prevent many issues. The creation of solid partnerships will contribute to better securing future supplies.
Create your free account on Proto-Electronics.com
and get your PCBA quote within the next 10 minutes!
October 2019: the component shortage situation has hardly improved.
Even though the electronics market is still showing stable growth (+2 to 3% / year), the industry is still facing successive waves of component shortages, resulting in significant price increases and much longer lead times.
We all experienced the biggest electronics component crisis since the turn of the century, with suppliers unable to meet demand exceeding stock levels. This generated record profits for component manufacturers, increases in their prices/sales, and new product proposals to remain competitive.
The current market is still very limited, especially for passive components such as MLCC capacitors, resistors, transistors, diodes and even memory. Most suppliers estimate abnormally long supply lead times, from 6 to 12 months at best!
The automotive industry, for example, has a major impact on the component market: Considering that a basic internal combustion engine for a car requires almost 3000 MLCCs, and for electric cars that are becoming increasingly popular the numbers can reach 12000 MLCCs, a figure that will carry on rising! The automotive industry is therefore a major priority for passive component suppliers.
The constantly moving Smartphone industry is also impacted. New, more advanced models are proposed every year, requiring more passive components and memory to meet the demands of ever more advanced technology.
Here, miniaturisation strategies have their full impact in order to be able to use smaller components and add new features.
There has been an improvement in the supply of certain references, but to the detriment of many others which have been halted to be able to produce smaller, more expensive new components. The transition towards new, more recent components seems inevitable if component stocks are to be properly anticipated.
The main difficulty for industries such as the healthcare or aviation industry remains the long-term supply of certain components that are not only needed to maintain product life cycle, but also to maintain the associated service contracts. It is therefore imperative that the absolutely vital electronic components impacted by this shortage be easy to provide.
This need can lead to emergency orders to distributors without considering dealing with obsolescence or unstable market fluctuations.
All companies in all sectors of activity are now considering creating long-term storage capacity and extending the logistics chain with specialised long-term storage partners who manage and stock on behalf of their customers. We should nevertheless be wary of current designs that often require components that need complex storage processes (semi-conductors, for example, are vulnerable to environmental factors and need to be stored in a suitable environment).
Another consequence of the shortage: Counterfeits. Remember that these are not declared and that the specific counterfeit market now weighs 75 billion dollars (the United States government seized over 124 billion counterfeit components in 2016).
New designs are therefore encouraged, as well as stringent checks on equipment arriving at factories. Counterfeits cost the industry billions and need to be eliminated through better material detection & traceability.
To sum up: a few alternatives to best mitigate the shortage:
Supply-chain structuring: firstly to absorb supply chain tensions, then to measure a structure capable of fulfilling the new needs resulting from size changes.

Permanently upgrading product design by adapting to component supplier technology.

Multiplying the number of suppliers to find new alternatives.

Communicating as well as possible and having a better visibility of general organisation between product design, material supply and the logistics chain.
How Proto-Electronics is dealing with the crisis
Our engineers have developed a new feature to deal with the global shortage by helping you when passive components are out of stock.
Feel free to test our solution, and if you have any questions, you can contact our customer department as usual from Monday to Friday and from 8:30 am to 7 pm by email, phone +44 1202 006012 or live chat.