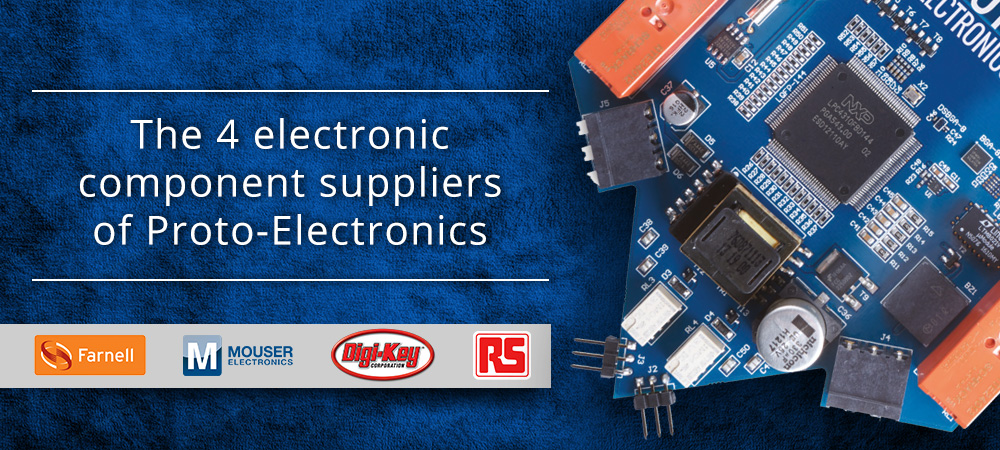 Proto-Electronics.com is directly connected to the 4 biggest component distributors on the electronics market: RS, Farnell, Digi-Key and Mouser. Therefore our algorithm can offer the best prices depending on availabilities, so that you can find what you need to complete your prototype project.
These suppliers were selected by our teams because of the quality of their customer service and the wide availability of electronic components they offer.
Farnell
With over 80 years of experience in the electronics sector, Farnell Premier (founded in 1934 under the name Newark Electronics) proposes over 10 million components.
The company was bought by Avnet in 2016 to increase its global presence whereas Farnell element14, the branch specialised in development kits and prototyping assistance, arrived in 2010 (reference to the 14th element in Mendeleiev's table).
With almost 20,000 employees, Farnell is present in over 125 countries and makes it a point of honour to support electronics players according to 4 key criteria:
Education & Makers:

to support teachers and electronics enthusiasts by collaborating and discussing with them and providing solutions

Research & Design:

to support startups and companies of any size using Farnell expertise to bring their ideas to life and help them to grow

Prototype & Test:

to allow the fast development and creation of prototypes thanks to a vast selection of components, tools and equipment (Proto-Electronics obviously comes into this category)

Production & Maintenance:

component prices are adjusted to demand and there is a top end service available.
Mouser Electronics
Western Components opened in 1964 in California before changing its name to Mouser Electronics. Since then it has become one of the electronic component leaders, supplying over 750 manufacturers. Mouser proposes passive and electromagnetic components, semi-conductors, interconnections… from its 25 production sites spread all over the world. They deliver over 600,000 clients every day in 220 countries and can process orders 24*7.
Mouser became a TTI subsidiary in 2000 allowing it to climb to a market leader position thanks to its complete control over the design and supply chains.
In March 2007, Mouser Electronics was acquired by Berkshire Hathaway, bringing it more financial strength.
It has been ISO9001:2015 certified since 2018.
Create your free account on Proto-Electronics.com
and get your PCBA quote within the next 10 minutes!
RS Components
RS Components is a distributor offering over 500,000 references of electronic components, automation, equipment, test and measurement instruments, tools and industrial supplies.
The company is committed to sustainable development and ecology. In France it is an installation classified for the protection of the environment (ICPE). It has completed its carbon footprint and implemented internal prevention actions covering:
Packaging

: reduction of the use of plastic bags, document virtualisation, reduction of printing to a minimum, reduction of the chlorine used to produce boxes…,

Waste

: recycling, reduction, membership of Récylum, Ecologic, PV Cycle, Screlec and Valdelia…,

Equipment

: installation of a heat pump, reduced water and electricity consumption, reduction of greenhouse gas emissions…
Each supplier is analysed and assessed using strict requirement criteria. Monitoring and performance scores are carried out throughout the year.
RS Components has been OHSAS 18001 certified since 2011 and ISO 14001 since April 2010.
Digi-Key
Since its creation in 1972 by Ronald Stordahl, Digi-Key has become an approved component distributor for over 800 suppliers: power supplies, connectors, passive components, semi-conductors, test and measurement… the product range available from this company is considerable. 6th global distributor, the company has a stock of millions components located in Minnesota in the United States. 99% of the major North American electronics companies work with this supplier: Walt Disney Imagineering, Paramount Pictures, the Space Agency… Many Digi-Key components are used in satellites.
Its growth can be explained by its global approach to customer service based on product availability, speedy processing, reactivity and, of course, reliability.