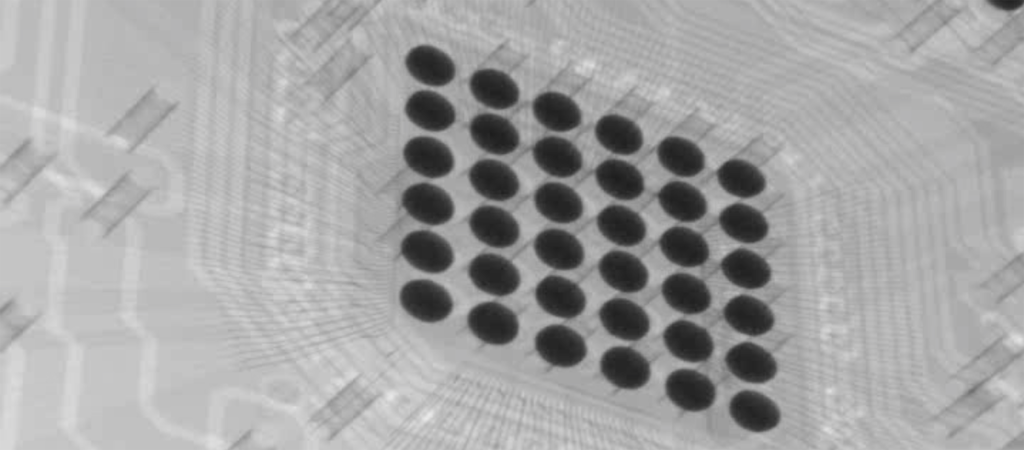 Proto-Electronics.com has a new X-Ray machine: a YXLON Cougar. An ultra-high performance microfocus inspection system for the electronics industry focussed on quality, making it possible to obtain very high resolution 2D and 3D images of PCBs in record time.
The YXLON Cougar is used in the electronics sector, but also in the automotive industry, for military projects, in aviation, telecommunications and medical technology.
With the arrival of the new BGA and QFN component systems in which brazed connections are no longer visible under a microscope, X-Ray image inspections are more than ever relevant. Therefore, the company has decided to invest €130,000 in this new machine in order to be able to meet the strictest quality standards.
X-Ray inspections of PCBs are mainly used to detect:
non-conductive brazing (defective)
bridges or short-circuits
gas bubbles (voids) in the brazing
positioning or alignment faults on components on the PCBs.
Tested and approved
Following a long training and testing phase, Proto-Electronics.com now carries out reliable X-Ray inspections on the prototypes.
X-Ray inspection machine: the video
A "logical" follow-up to obtaining the ISO 9001:2015 standard certification
Proto-Electronics.com has been ISO 9001:2915 certified since June 2017. This investment is the logical next step in the business's growth plan and shows its intention to continuously improve the quality of its customer services.
YXLON Cougar: Detailed technical specifications
| | |
| --- | --- |
| Attribute | Respective value |
| Sample size | 400 mm x 550 mm (17 "x 21") |
| System dimensions | 1100 x 1100 x 2100 [mm] |
| Maximum tube power | 64 [W] |
| FeinFocus X-ray Tube | FXE 160 [kV] |
| Time to first image | ~ 10 [s] |
| μCT scan time | ~ 8 [s] |
| Maximum geometric magnification | 2000x |
| Oblique viewing | +/- 70 ° (140 °) |
Create your free account on Proto-Electronics.com
and get your PCBA quote within the next 10 minutes!